How much does OPERS pay out in pensions?

The mission of the System is to provide financial security for our members in retirement. We do that by accepting contributions throughout an individual's working career. With careful, systematic investing to maximize earnings and the compounding effect of long-term contributions, OPERS has maintained an 80-year tradition of providing financial security to our members. OPERS provides retirement benefits that include pension payments, disability benefits and survivor benefits. This chart represents pension annuities and installment payments for the years presented.
2015 Investments Summary
The 2015 investment market was frustrating and yielded low returns for all the OPERS pension and health care portfolios. The OPERS total return was a loss of 0.03% or (0.03%), substantially less than the expected rate of return of 8% but better than the benchmark return of (0.06%).
Long-term investor
While these results are disappointing, OPERS is a long-term investor. We have managed to maintain a strong funding status throughout the market turmoil. While the actuarially established benchmark return for each portfolio was not attained, the Defined Benefit portfolio did provide a positive return and, most importantly, remained positioned for better results.
How do we invest?
OPERS invests in a diverse set of asset classes to minimize risk. We periodically review the asset allocation to balance the appropriate level of expected risk and return, relative to the characteristics of the liabilities we ultimately expect to fund. The most common message from experts for investing in any economy is to keep asset allocation plans intact in both strong and weak markets. Adhering to Board policies, OPERS did just that in 2015.
Investments Breakdown
(as of December 31, 2015)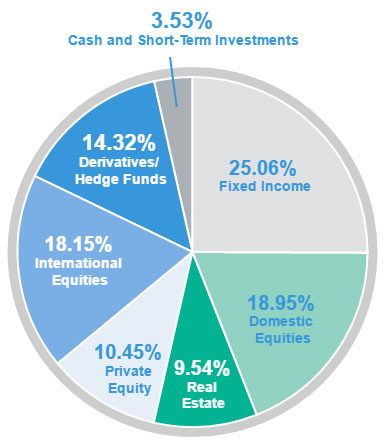 A complete discussion of OPERS' investment returns, activities, asset allocation strategy, and policies governing those activities can be found in the Investment Section of the 2015 Comprehensive Annual Financial Report.
Average Retiree Pension Benefits
The graphic below shows the average benefits paid to retirees receiving an age-and-service benefit under the Traditional Pension Plan. The cost of retirements will continue to increase as new retirees with higher final average salaries replace long-time retirees with lower final average salaries.