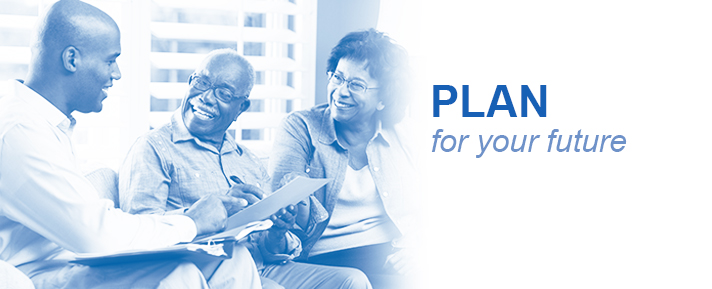 Planning Checklist
Establish access to your OPERS account online. This is where you will run retirement and health care estimates, keep your information current with OPERS, and submit your retirement application.
Next, click on Need an account? and follow the prompts.
Compare your working income with the income you will receive if you retire and compare your employer health care costs to your projected retiree health care costs with the Retirement Planner.
Deciding to retire is a milestone in one's life that requires careful thought and planning. The OPERS Retirement Planner is designed to assist you with the two key components of your OPERS retirement decision: your estimated monthly pension payment and your estimated monthly cost for OPERS health care. With just a few dates and numbers, the Planner can assist you in evaluating the best time for you to retire. The Planner will show you a pension and health care comparison between retiring now and continuing to work.
Obtain pension estimates via your Online Account if retiring this year.
Log on to your Online Account, then go to the Tools and Resources tab and click on Benefit Estimate.
Obtain health care coverage estimates via your Online Account if retiring this year.
Log on to your Online Account, then go to the Tools and Resources tab and click on Health Care Estimate.
Determine whether you have service credit that can be purchased or service credit in another Ohio retirement plan.
As a general guideline, service credit may be purchased for public employment for which you did not make OPERS contributions. For example, if you were in the military or refunded an OPERS account you may be eligible to purchase service credit. There are several types of service credit.
Consult the Service Credit and Contributing Months publication to verify whether you have purchasable service credit.
If you are interested in purchasing service credit please run an estimate via your Online Account. After logging in to your account click on the Tools and Resources tab, then click Service Purchase.
If you have service credit in another Ohio retirement system, contact OPERS to request a retirement estimate showing service credit from both systems.
Make an appointment to meet with an OPERS retirement counselor
OPERS recommends meeting with a retirement counselor when you are within six months to one year of retirement. You can set the appointment via your Online Account by selecting the Tools and Resources tab, then Seminars and Counseling from the menu bar.
Bring a photo I.D., a copy of your birth certificate, marriage certificate (if applicable), and your beneficiary's birth certificate.
Determine if you plan to return to work following your retirement.
If you are planning to return to public employment after retirement, consult the
Returning to Work After Retirement
publication. Re-employment is returning to work in an OPERS-covered position after retiring with an age and service benefit. Re-employed retirees continue to receive their retirement benefits and contribute toward a Money Purchase account.
Determine how your Social Security benefit will be impacted by your OPERS retirement benefit.
We recommend you contact a Social Security office in Ohio, or visit the Social Security website if you are comfortable calculating your own
Windfall Elimination Provision
amount using their calculator.
Apply for Medicare 90 days prior to turning age 65, if eligible. You are required to participate in Medicare Parts A and B to enroll in OPERS retiree health care coverage.
In most cases, once you and your covered dependent become eligible for Medicare, the OPERS health care plan will pay after Medicare (it acts as a supplement to Medicare). It is important that you and your covered dependent apply for Medicare three months (90 days) before you reach age 65.
If you do not have enough quarters to receive premium-free Medicare A, you must send proof of this (a letter from Social Security) to OPERS. Once this letter is received, your OPERS health care plan will provide substitute coverage for Medicare A.
Contact Ohio Deferred Compensation to learn about account distribution, if applicable.
If you have not already done so, submit court-ordered documents that would impact your retirement.
If you are subject to a court order such as child support or a Division of Property Order (DPO) pertaining to your retirement, it is your responsibility to submit copies to OPERS.
Before an estimate can be prepared, you must submit an approved DPO to OPERS, which includes the amount to be paid to an alternate payee/ex-spouse. OPERS requires 60 days from receiving the DPO to review.
OPERS will neither advise nor be able to answer any questions about how to complete your DPO. You may wish to refer your attorney to theDivision of Property Order (DPO) form on the OPERS website.
Please include your full name and at least the last four digits of your Social Security Number on all documents.
Prepare your budget for the first payment to arrive between 30 and 45 calendar days after your effective date.
Your first payment will arrive between 30 and 45 calendar days from your retirement effective date or the date OPERS receives all paperwork, whichever is later. Your first payment may be an interim payment which is less than your original estimate. An interim payment is calculated before OPERS receives final salary and contribution information from your employer.
FAQ
Does OPERS offer life insurance?
No. Consult your employer to determine if they offer life insurance beyond employment. OPERS does provide a death benefit between $500 and $2,500 based on years of service at retirement.
When should I apply for retirement?
You can apply for retirement six months prior to your retirement effective date. OPERS requests that you apply at least two months in advance of your effective date.
How can I receive pay for my unused sick leave and vacation time?
How much should I withhold from my pension payment for taxes?
You may elect to withhold federal and/or state of Ohio income taxes from your monthly retirement payment and you may change your state and/or federal withholding amounts at any time. If you do nothing, federal income tax will be withheld from your benefit payments using withholding rates applicable to a married individual claiming three withholding exemptions. Even if you elect not to have federal income tax withheld, you are liable for payment of federal income tax on the taxable portion of your payments.
The payments you receive may be subject to Ohio state income tax and you may elect to have Ohio state income tax withheld.
Please consult with a tax advisor regarding your specific tax situation.
When should I notify my employer that I am retiring
OPERS recommends you ask your employer how and when they wish to receive notification. You may also want to ask your employer when their health care coverage ends and if there is a policy for any sick leave and vacation time payouts.
Is my prescription medication covered under the OPERS Health Care plan?
If you enroll in the OPERS retiree health care plan, your prescription coverage will be administered by Express Scripts. Review the
prescription plan section
of the website for information regarding your coverage, including a formulary drug list for Medicare and Non-Medicare participants. You can call Express Scripts at 1-866-727-5873 if you have any further questions.