Get healthy. Stay healthy.

OPERS Wellness information
You've heard the old saying, "without your health, you have nothing." Sure enough, a top worry of people as they get older is their health and as we age, health worries that relate to chronic or life-threatening illness become more probable. OPERS understands this, and supports you in achieving your optimal health and enjoying your retirement. To help you manage your health and stretch your health care budget OPERS provides you with a variety of resources.
---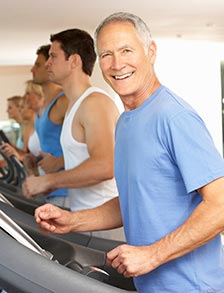 2 out of 3 OPERS retirees and dependents have preventable chronic conditions like heart disease, diabetes, and degenerative joint disease.
Preventing Illness/Maximizing Your Health
While many diseases and disabilities are associated with genetic and environmental factors, most chronic conditions plaguing this country in terms of human toll and health care costs are linked to health-related behaviors we can control – our diets, our level of physical activity, the amount of sleep we get, our use of tobacco products, etc.
With the aging population and an increase in preventable chronic diseases—coupled with the rise in health care costs—it's more crucial than ever for you to take charge of your health.
Preventive Services

OPERS offers preventive tests and services covered at 100 percent and are not subject to the plan deductible under Medical Mutual as long as the provider bills these services as either routine or preventive. OPERS follows preventive services guidelines as recommended by the U.S. Preventive Services Task Force (USPSTF).

Medical Homes

OPERS encourages participants to learn the advantages of using a Medical Home. A Medical Home is a team of health professionals led by a primary care provider (PCP), all working together to give you comprehensive and coordinated care that covers all your health and wellness needs.

OPERS and Medical Mutual believe this new care model is so important in helping retirees manage their health that we offer a lower copay for care received from a SuperMed Network provider recognized as a Medical Home. How can you take advantage of these lower copays:

Find out if your current PCP is part of a Medical Home using the online provider search tool on MedMutual.com, and look for designation "Medical Home" under the Awards and Recognition section. Or call a Medical Mutual Customer Care Specialist at 1-877-520-6728 and ask if your PCP is a Medical Home.
If you don't have a PCP, consider selecting one who is part of a Medical Home. If you do, you'll be eligible for the reduced copay for any office visit.
Maximizing Your Health Care Dollars
The concept of personal responsibility in health care is simple --- if we follow healthy lifestyles (exercise, maintain a healthy weight and don't smoke, to name a few) and are good health care consumers (keeping our appointments, heeding our doctors' advice, taking our prescription medications as directed, and using a hospital emergency department only for emergencies), there is a greater likelihood we will be rewarded by feeling better and spending less money on our health care needs.
---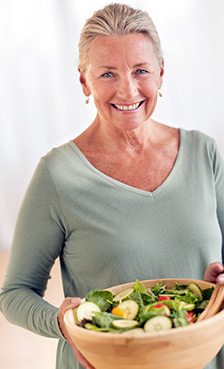 Getting enough sleep, exercising, eating a healthy diet, and having positive human contact are common sense strategies for successful aging.
Optimizing Your Health and Quality of Life
To help you achieve your optimal health and quality of life, OPERS offers a variety of resources including access to board-certified primary care doctors and specialists, high quality hospitals, personalized prescription drug consultations, lifestyle coaches, weight loss programs, fitness center discounts, and more.
Below are links to resources available to you through your OPERS health care programs.
Medical Mutual
1-866-452-6442, www.medmutual.com
For retirees participating in the Medical Mutual Plan, Medical Mutual offers health and wellness programs for those who choose to participate.
---

Learning More
Below is additional information you might find helpful to improve your health and stretch your health care dollars.
Free Online Arthritis Workshop
With support from the CDC, NCOA is partnering with the Arthritis Foundation to offer Better Choices, Better Health®-Arthritis free of charge. Over six weeks, participants will learn strategies to reduce pain, decrease activity limitations, and improve their ability and confidence to manage arthritis—all from the convenience of their computer. For more information visit: Better Choices, Better Health Arthritis.
Online, self-management programs from NCOA offer an alternative to community based workshops with evidence-based outcomes.
Community-Based Resources
The following external resources are not affiliated with OPERS but will provide you with a wide variety of helpful wellness information, ranging from preventive wellness tips to specific information and treatment options for chronic conditions.
Disclaimer
The information OPERS provides on our website is made available for the convenient access of our members and other interested parties. While OPERS makes every attempt to ensure the information provided is reliable, human or mechanical error remains a possibility. Therefore, OPERS does not guarantee the accuracy, completeness, timeliness, or correct sequencing of information, and will not be held responsible for any errors or omissions, or for the use of, or results obtained from the use of the information. This applies to sites hyperlinked to and from the OPERS website. In addition, OPERS can make no claims of accuracy or integrity of third party websites even if OPERS Web pages contain a link to their websites.