What is OPERS? the importance of your OPERS membership
OPERS provides retirement income and benefits to Ohio public employees.
What it Means to be a Member
You don't pay into
Social Security

As a member of OPERS you do not pay into Social Security. OPERS replaces Social Security for Ohio public employees.

Instead, you pay
into OPERS

You contribute a percentage of your salary to OPERS, and your employer contributes an amount equal to a percentage of your salary. OPERS invests this money for your retirement.

OPERS provides you with retirement income*

Your member and employer contributions both go toward your future OPERS retirement income.
* Assuming you reach retirement eligibility and choose an annuitized monthly payment option
---
How much do I contribute to OPERS?
As a member, you contribute 10% of your salary toward your retirement.

Your employer contributes an amount equal to 14% of your salary.

That means an amount equal to 24% of your total salary is being invested by OPERS.
10% your contribution
14% your employer's contribution
24% of your salary being invested for your future
These numbers may vary based on your employment type. See the FAQ page for more details.
---
Your Member and Employer Contributions How the funds are invested for you
Pension benefits and health care payments are funded by three sources:
Member contributions
The employers' contributions
Income from investments
Your member contributions can only go into the pension trust fund. Employer contributions can be split and used to fund both pensions and health care.
Retirement benefits are paid through our pension fund and health care payments are paid through our health care fund.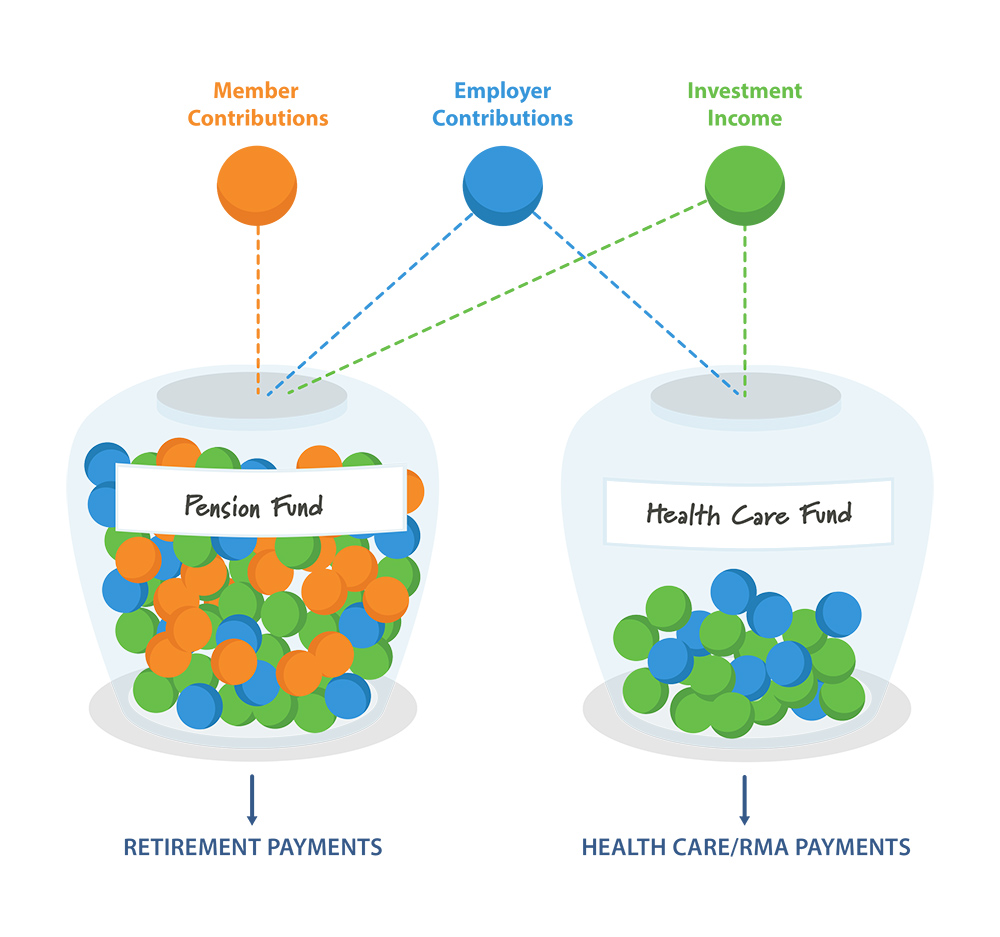 Contributions must go to the pension trust fund first. Once our pension obligations are met, contributions can be made to the health care fund.
---
Accessing Your Money
You can access the funds you've paid OPERS two ways:
Receiving an OPERS benefit when you retire

When you are ready to retire the money you have invested with OPERS will be available to you.

Your retirement payment options depend upon the retirement plan you choose. You can either annuitize your account and receive lifetime payments, or you can take a lump sum and annuitize the remaining portion (if any).

Refunding your account

If you leave public employment but are not yet eligible to retire, you have the option to refund your contributions. You'll receive 100 percent of your member contributions (the 10 percent of your salary you contributed to OPERS).

You may also be eligible for an additional amount depending on your retirement plan and years of service.

Your refund can either be sent to you directly (with taxes withheld), or rolled over into another retirement account (with no tax consequences).
Your Contributions
As an OPERS members you will always be able to refund 100 percent of your member contributions once you leave public employment.
---
You Have a Choice to Make Selecting your OPERS retirement plan
New members, you have 180 days (from your start date) to select one of three retirement plans:
Unsure which plan is right for you?
We've created a short video quiz to help you decide:
If you're ready to make your plan selection, log in to your online account
If you still have questions, give us a call at 1-800-222-7377.
It's important to choose the right plan.
Each plan has unique features and benefits. The plan you choose will determine how your contributions are invested and how your potential retirement benefit will be calculated.
OPERS Retirement Groups
OPERS members are divided into three retirement groups: Groups A, B and C.
Your retirement group is based on:
How close you are to retirement
How long you've worked in public employment
Which group am I in?
You can log into your OPERS online account anytime to view your retirement group.
Don't have an online account? Sign up today, it only takes a few quick steps to register.