GASB project

Update for employers

GASB 68 information now available
The data necessary for implementation of the GASB 68 standard affecting accrual basis employers is now available to employers via the secure Employer Contribution System
Annual Financial Reports
Check out the OPERS Finance page to view the Comprehensive Annual Financial Report (CAFR) and the Summary Annual Financial Report (PAFR).
An Employer Notice was sent in June 2015 with instructions on how to add the "Online GASB Report" role to users who need to access this information. The assigned users can access the OPERS GASB 68 information by clicking on the "GASB Reports" button on the ECS home page.
We know these new standards are complex and we will continue developing comprehensive educational offerings to assist you in your understanding and implementation.
Educational and outreach materials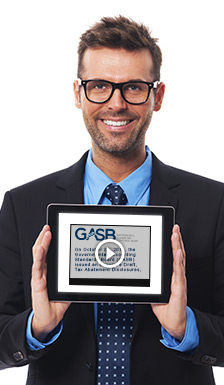 Recorded Presentations
OPERS offers employers two comprehensive recorded presentations: the Executive Track recorded presentation and the Operations Track recorded presentation. The Executive Track presentation provides a high level overview of the GASB standards, the requirements and what to expect from OPERS. The Operations Track presentation covers more technical details within the GASB standards including employer responsibilities, example calculations and journal entries for employers.
Employer Forum
The OPERS Employer GASB Forum is a Web-based forum created by OPERS, so employers can interact with other employers regarding these GASB standards. This forum allows employers to share and learn best practices or ask a question for other employers to review and/or answer. This forum can only be successful if you join and participate!
GASB FAQ
We have compiled several Frequently Asked Questions from feedback and queries we have received during our live webinars and from partnering with our Employer Advisory Council as we prepared to release this GASB 68 information.
Talking points for stakeholders
OPERS continues to work closely with stakeholders, in addition to employers, to ensure GASB's standards, the potential impact of the standards, and the effort to implement the standards are understood.
Resources for stakeholders:
Contact us with questions
The most efficient way to reach us with questions about GASB 68 is to submit an online OPERS GASB Inquiry.
---
Background
In June 2012, GASB issued two new standards changing the accounting and financial reporting requirements for pensions. The intent of the standards is to enhance the pension-related information in financial reports by providing greater transparency and to standardize the valuation practices from entity to entity. The new standards require separate public pension accounting and financial reporting and require employers to recognize a net pension liability on their financial statements. These are new accounting and financial standards for reporting purposes, and will not impact your funding requirements.
Why the change?
From the GASB perspective, pension benefits are a component of the compensation package and employment relationship between the employer and employee. Therefore, to the extent the pension system is not 100 percent funded, under the new standards employers have to report a liability for the unfunded portion of the pension benefits earned by employees. Under Ohio law, the current employer funding requirement is the statutorily required contributions. While GASB will be requiring employers to present this new unfunded liability on financial statements, the employer's responsibility is to remit the statutory contributions.
How OPERS approached this implementation
We recognized the impact this requirement has on employers. Before GASB issued their implementation guides, OPERS staff worked closely with employers to perform a test implementation involving a cross section of employers. As a result of the test implementation, we were able to:
Identify required disclosure elements for both OPERS and employers
Develop a specific and sustainable way to allocate the proportionate pension liability share to each employer entity
OPERS' work with the employer test group resulted in pro forma financial statements and disclosures compiled by the test group using the data provided. With that information, OPERS developed the educational and outreach materials for a broad-based implementation for all impacted employer entities.
Throughout 2014 and 2015, OPERS continued to partner with employers and stakeholders to deliver education on these new standards. We also worked extensively with our external auditors and the state auditor's office to finalize and execute audit procedures over the GASB 67 and 68 information, including testing of census data at almost 100 employers. We continually partner with the Public Pension Financial Forum to advocate for reasonable audit requirements as the American Institute of Certified Public Accountants updates the Audit and Accounting Guide for State and Local Governments for these new standards - we still await the finalization of this guide, which is expected before the end of the summer.
The good news
Please understand OPERS did not create these standards and worked hard to positively influence the standards by working directly with GASB's officials during both the comment period prior to the finalization of the standards and during our test implementation.
We are partnering with employers by making available the information necessary for compliance – even though the implementation responsibility is a shared responsibility. We're proud to announce that OPERS is a national leader in the testing and implementation of these standards.
OPERS is working to help ensure our partners, all OPERS-reporting and contributing employers, are well positioned to implement these standards. We'll continue to use every outreach outlet available to us including employer-specific webinars, group meetings, videos and more.
---
OPERS GASB Inquiry
Please complete the fields below to communicate with an OPERS finance staff regarding your GASB inquiry. The information you enter will be used to respond exactly as you enter it so please be sure to enter the data accurately.