Employers Library
All publications listed here are available for immediate viewing and printing.
Archived Publications: View & Print
These employer publications are archived and only available for online viewing and printing purposes.
Jump to:
Non-archived Publications: View, Print & Order
These employer publications are available for viewing and printing. You can also request that one of these publications be mailed to you from the OPERS Forms & Documents page
Archived Publications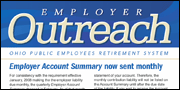 Employer Outreach Newsletters
This is published quarterly and features in-depth information with an employer focus.
Designed to be of interest to and enhance the knowledge base of finance directors, auditors and others who must be kept current on retirement contributions issues, legislation or enhancements. Articles in the newsletter may be reproduced by employers to help with onsite newsletters or other employer publications.